Welcome to Kämpfer HQ
| | |
| --- | --- |
| | We are currently lacking active contributors. To ensure the longevity of Kämpfer HQ wiki, please help us by editing. Any contributions are helpful! |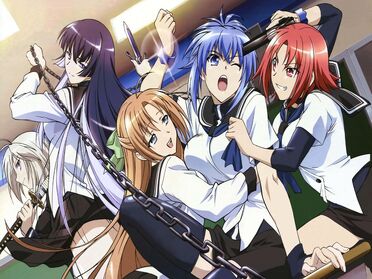 Here you will find anything about the anime TV show
Kämpfer
!
Kämpfer
Kämpfer [けんぷファー, Kenpufā] is a Japanese light novel series by Toshihiko Tsukiji, with illustrations by Senmu. As of September 25, 2009, thirteen volumes have been published by Media Factory under their MF Bunko J imprint. The novel is narrated from Natsuru's point of view, there are fifthteen light novels. A manga adaptation by Yu Tachibana started serialization in the Seinen Manga Magazine Monthly Comic Alive on February 27, 2008. There are currently nine volumes of the manga adaptation in Japan and the tenth has been announced to be the final one.(link) (five of which released in Taiwan) (Here is ia link to get the volumes 1-8 raw Japanese Volumes in .rar files: Manga-Zone.org.)As of September 2012, there are 30 chapters (five complete volumes, and five chapters from the sixth; Chapter 31 coming in 4 months [link]) translated into English currently online on English-dubbed manga websites.* Here is a good one: (Kämpfer manga on MangaReader.net)
An anime adaptation began airing in Japan on October 2, 2009 on TBS with a total 12 episodes. There are six DVDs in total of the anime series, and three Kämpfer Anime Soundtrack CDs. The second season Kämpfer für die Liebe was intended to air in March 2011. However only one episode aired and a second episode was made before the season was scrapped. 
The story revolves around Natsuru Senō, an average teenage boy. He had been chosen by mysterious beings referenced as the Moderators to be a Kämpfer. A Kämpfer is a fighter that specializes in one of three weapons:  Schwert (Sword), Gewehr (Gun), and Zauber (Magic)
Kämpfers are guided by stuffed animals that call themselves Messengers. However, all Kämpfers must be female, resulting in Natsuru changing gender whenever he transforms. Throughout the story, Natsuru meets other Kämpfers that end up falling in love with him, though he is oblivious to their romantic gestures.
since Chapter 26, English Translations came from 13thhour, the website is in other links below
deviantArt Kämpfer Fan Groups
Other Links
Latest activity
Community content is available under
CC-BY-SA
unless otherwise noted.