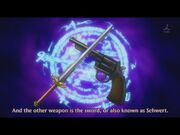 Kämpfer either use three type of weapons: magic (
Zauber
), swords/blades (
Schwert
) or handguns (
Gewehr
). These weapons can vary and do not always have to be the same, for example, the main character,
Natsuru Senō
, uses zauber which is flame based but one of the white kämpfer,
Hitomi Minagawa
, uses zauber that is energy based.
In RPG terms, Zauber would be Caster, Schwert would be Melee, and Gewehr would be Ranged.
See Also