This is the list of episodes for the animated television series Kämpfer. The series aired on TBS on October 2, 2009 and ended on December 17 of the same year.
An 11 minute side story episode, Kämpfer Picture Drama, features the Entrails Animals Messengers discussing philosophical topics rather than following the story of the main characters.
A failed follow up second season, titled Kämpfer für die Liebe (translated as Kämpfer for the Love) was released on Blu-ray and DVD on May 25, 2011. It has a total of only two episodes, and is labelled as Kämpfer episodes 13 and 14, rather than Kämpfer für die Liebe episodes 1 and 2, though is done as the latter here for clarification purposes.
All Kämpfer episodes carry a German name and a Japanese name. Listed episodes are shown with the episode title with Japanese characters where available followed by the same with Roman characters.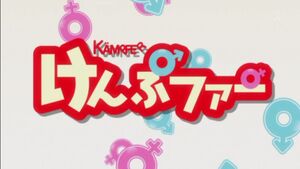 Episode #
Episode Title
Episode Title in Japanese
Original air date
Directed by
Written by
1
"Destiny ~The Chosen Ones~"
Schicksal ~選ばれし者~
"Schicksal ~Erabareshimono~"
October 2, 2009
Mitsue Yamazaki
Kazuyuki Fudeyasu

Natsuru Senō finds himself gender bent after a nightmare. Harakiri Tora explains to him, somewhat, that he is a Kämpfer. Natsuru freaks out because he can't go to school as a girl, so Harakiri Tora knocks him out and he when awakes up, he's a guy again. Natsuru meets his crush, Kaede Sakura on his way to school. A brief fight with a red-headed girl with a gun ensues. Later, Natsuru meets a girl who calls herself Akane Mishima. She tells him she is that girl that Natsuru fought earlier and explains more about being a Kämpfer.
2
"Glow ~The Fight of Death Starts~"
Glühen ~死闘の開幕~
"Glühen ~Shitō no Kaimaku~"
October 9, 2009
Hikaru Sato
Kazuyuki Fudeyasu

Natsuru stops Akane from shooting Kaede and the attacker retreats when the school bell rings. Natsuru realizes that the enemy Kämpfer also goes to his school and becomes wary of the danger and stays cautious of the girls around him. He and Akane are interrogated by Sangou Shizuku, the student council president, about the incident that happened in the library. Natsuru promises to let Kaede meet the female Natsuru the next day, and Akane and their messengers suggest making Kaede hate the female Natsuru to dissuade her interest, but he fails to do so after she asks him out. Natsuru discovers that Shizuku is the enemy Kämpfer and he and Akane only barely manage to score a win in the ensuing battle against her. Natsuru makes a deal with Shizuku to let her go if she leaves Kaede alone. Noticing that rumors about the female Natsuru are circulating the school, Shizuku forces him to enroll into the girls' side of the school to keep the Kämpfers' anonymity.
3
"Her Lily ~The Secret Flower Garden~"
Lilie ~秘密の花園~
"Lilie ~Himitsu no Hanazono~"
October 16, 2009
Satoshi Saga
Hiroko Fukuda

On Natsuru's first day enrolled in the Girl Section, things get overwhelming when she becomes an instant popular hit the girls. Kaede admits to her love for her. The Chairman and company then has her overworked using that fame for profit. Akane visits her when she went home. The next day deepened the complications when Shizuku gave the idea that she was in a relationship with her normal self. Plus when Kaede saw the normal Natsuru on top of Akane in the library and made the vow not to lose the female Natsuru to him.
4
"Her Declaration of War ~The Fighting Maidens~"
Kriegserklärung ~戦う乙女たち~
"Kriegserklärung ~Tatakau Otometachi~"
October 22, 2009
Matsuo Asami
Takashi Aoshima

Natsuru is reeling from Kaede's vow, when he finds out his female self is in the beauty contest. He fails to stop Shizku from keeping him from participating when Akane interfered. The Next day he and Akane go shopping for bras for his Kampfer form. Of course Shizuku shows up and helps in doing so and joins them to the karaoke bar and got Kaede into the act. In the end, Kaede, Akane, Shizuku decide to join Natsuru to participate in the contest.
5
"Her Comedy ~First Kiss~"
Komödie ~ファーストキス~
"Komödie ~Fāsuto Kisu~"
October 29, 2009
Jirō Asuka
Takashi Aoshima

Natsuru and Akane arrives at the dressing room and Kaede had already in her costume: a wedding dress. At the contest, Kaede made it into a Entrails Animals play. When Akane appeared and made it almost amok with bullets, Shizuku halted by knocking the three out, making her the contest winner. In the aftermath, in the dressing room, Shizuku surprised Natsuru with a bold kiss and warning him not to tell Akane or he will die.
6
"Her Homecoming ~Friend or Foe?~""
Heimkehr ~敵か味方か~
"Heimkehr ~Teki ka Mikata ka~"
November 5, 2009
Hisatoshi Shimizu
Hiroko Fukuda

Mikoto is back and making Natsuru breakfast. While waiting for the bus, Akane gets suspicious and jealously curious of Mikoto until she finds out who it is plus finding out that she was Natsuru's childhood friend and that they had breakfast together which horrified her and she runs off. Of course Natsuru leaves too when the bracelet glows again. As his female self, he is surprised by the fact that the Cultural Festival continues with a imitation cafe with him as the main attraction. When Shizuku comes, Natsuru is forced to follow her wishes and then with Kaede for a date. During the date, a new Kämpfer appears and soon is revealed to be Mikoto.
7
"Invite ~The Uninvited Guests~"
Einladen ~招かれざる客たち~
"Einladen ~Manekarezaru Kyakutachi~"
November 12, 2009
Matsuo Asami
Hiroko Fukuda

Natsuru gets invited to Kaede's house only its for his female self. Of course finding out about the invite, Akane and Shizuku tags along. Kaede lets them in and with the three a game with candy sticks and kissing. Later Kaede shows them her Entrails room. Mikoto arrives and treats all with curry. After Natsuru's shower, and everyone in bed, Kaede sneaked in bed with Natsuru. Akane went ballistic until a mysterious White Kämpfer appears and attacks. Shizuku's blocking attacks caused the Kämpfer to retreat. Later after confronting Natsuru, Shizuku wonders if she in love with him.
8
"Sweetheart ~The First Date~"
Liebste ~初めてのデート~
"Liebste ~Hajimete no Dēto~"
November 19, 2009
Yoshitaka Nagaoka
Kazuyuki Fudeyasu

Shizuku tells Natsuru on a Date but Natsuru thinks its a gag/joke which Shizuku insists is not. The next day, they go to aquarium, then to its gift-shop where he bought her a gift. The they had a picnic lunch and took a nap. That evening, when they headed back, Mikoto ambushed them and took her anger on Natsuru. Shizuku leaves Natsuru at his fate. At Natsuru's house, Akane come and eventually makes him have a date with her.
9
"His Midsummer ~Tropical Cyclone of Romance~"
Hochsommer ~恋の熱帯低気圧~
"Hochsommer ~Koi no Nettaiteikiatsu~"
November 26, 2009
Satonobu Kikuchi
Takashi Aoshima

Natsuru and Akane arrive to a hotel with an outer swimming pool, but Shizuku, Mikoto, and especially Kaede arrive too which made Akane much disturbed. At the pool, Natsuru is shrugged off by Kaede and end up with Akane and Mikoto. As his female self later on, Kaede tell him his poor points which nearly made him cry though she doesn't know that she is telling him in his face. Afterward, Natsuru is sent on an errand but is trapped three of the White Kämpfers which was remedied when Akane and Shizuku arrived to his aide. They, however, escaped. Later at the room where Shizuku and her two roommates stayed, Kaede led Natsuru out in a trance.
10
"Her Trap ~A Summer Experience~"
Falle ~ひと夏の経験~
"Falle ~Hitonatsu no Keiken~"
December 3, 2009
Mitsue Yamazaki
Takashi Aoshima

Once Natsuru is in a trance, Kaede leads him away to a secluded spot. The others try to find him and Kaede among the crowds. Kaede order him to seduce Shizuku. Of course Mikoto barrages in first, then Akane, and lastly Shizuku, which wakes Natsuru from the trance and confusing him and Kaede disappears. Later they find Kaede in the hotel but not aware of her time with Natsuru. When they are at the indoor pool, again Natsuru is in a trance and leaves following Shizuku. There he tries to seduce Shizuku but when he reveals that he was ordered to she knocks him out. The next day, at the ground floor, when they went out to leave the hotel, Kaede whispered into Shizuku's ear wishing she had let Natsuru go further. This further gave the suspension of Kaede working with the Moderators
11
"Choose ~A Song of Joy~"
Wählen ~歓喜の歌~
"Wählen ~Kanki no Uta~"
December 10, 2009
Akane Inoue
Kazuyuki Fudeyasu

Natsuru and Shizuku meet at Shizuku's place. Shizuku tells Natsuru her suspicions of Kaede being involved with the Moderators. First she shows him Hiaburi Raion which she reveals to be the prime Messenger. Next she causes Natsuru to remember the night when he was controlled into seducing Kaede. When Natsuru confronts her, he gets snared in her power. At the school, the others get an invite from Natsuru to meet them at the roof. It proved to be trap that while they defeated the White Kämpfers, they couldn't defeat controlled Natsuru and end up tied up. Kaede tries to get Natsuru to destroy them but the sight of the gift that Natsuru gave Shizuku from their date brought him out of her power. In the end Kaede fails to get Natsuru choose her and being a girl instead he chose the three and being a guy.
12
"Their Christmas ~The Entrails' Miracle~"
Weihnachten~臓物たちの奇跡~
"Weihnachten ~Zōmotsutachi no Kiseki~"
December 17, 2009
Seiji Masuda
Yuuko & Hiroko Fukuda

This episode is a special Christmas story. Natsuru finds himself inside Harakiri Tora and vice versa. Of course everyone else is in the same situation. The Messengers go out enjoying their day as living beings and Kaede invites them to a date and save her from her punishment for her lust. They leave from Santa's sleigh.
Kämpfer für die Liebe (2011)
These are episodes that were originally intended to be part of a second season that didn't make it after airing the first and the second was completed but not aired.
Episode #
Episode Title
Episode Title in Japanese
Original air date
Directed by
Written by
1
"Temptation ~Ran Through~"
Wählen ~歓喜の歌~
"Wählen ~Kanki no Uta~"
May 25, 2011 (BD/DVD only)
Unknown
Unknown

Akane and Mikoto are found in a bath together at Natsuru's house after the fight with Kaede and the White Kämpfers. Of course this was a ploy by Shizuku to get after Natsuru. The next day reveals that Kaede is possibly having a split personality, one of which is a Moderator. Later the White Kämpfers trap and hypnotizes Mikoto. That evening Kaede attempts to seduce Natsuru again with herself and with controlled Mikoto. Of course Shizuku and Akane arrive and interfere. Kaede somehow refuses to die. Akane and Kaede run off in a running battle. Natsuru goes off to follow them, while Shizuku has Mikoto out of her controlled state. He is faced by the four White Kämpfers, but defeats them easily while arguing among themselves. In the running battle proved that Kaede was more than a match for Akane, Shizuku, and Mikoto despite trying. Of the rescue of Mikoto from Kaede's attack ended the battle and Kaede disengaged and considered it even with the last battle. Of course when the three girls ask what he considers the one he likes the most of them, he runs off with them on his tail.
2
"Everyday Life ~Since it's been a while, I wanna see some good things about Kämpfer~"
Jeden Tag Leben 〜ひさしぶりなので, けんぷファーのちょっといいとこ見てみたい〜
"Jeden Tag Leben ~ Hisashiburi na node, Kenpufā no chotto iitoko mite mitai~"
April 8, 2011
Unknown
Unknown

Natsuru's breasts are getting too big for his clothes and needs new bras. Akane suggests that he go work part-time with her. The Chairman and company surprise them and blackmail them to work part-time at a posh cafe. Later Natsuru finds out about a mixer party. At the idea that the idol in the party as Kaede, he decides to go to protect her. That weekend, first he works as his female self and he and Akane find it to be not really a posh cafe. Then he goes to the mixer party and finds that Shizuku is at the party instead of Kaede. Then Mikoto and Akane join in. They in turn try to coax Natsuru. Afterward, Akane and Natsuru hid in the same locker which fell and left more ammo for the chairman and company for blackmail.
Community content is available under
CC-BY-SA
unless otherwise noted.