This article is a stub

Don't let Natsuru go topless! You can help Kampfer HQ Wiki by expanding it.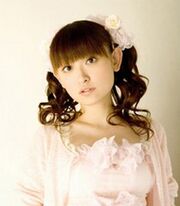 Yukari Tamura
(田村 ゆかり, Tamura Yukari, born February 27, 1976 in Fukuoka, Fukuoka Prefecture), is a popular Japanese singer-songwriter and voice actress, affiliated with the talent agency I'm Enterprise. Affectionately called Yukarin by her fans, she is also known for her high-pitched voice and interest in
Lolita fashion
. She made her debut as a voice actress in 1997, releasing her debut single "Yūki o Kudasai" on March 26, 1997. She is the voice actress for
Seppuku Kuro Usagi
.
While also a well-known voice actress in Japan, several of her releases have been used as opening and ending themes for anime series, while some have reached the Oricon top 100 singles and album charts. Her role as Nanoha Takamachi in the Magical Girl Lyrical Nanoha series contributed to a rise in her popularity, as several of her singles ("Little Wish ~lyrical step~", "Spiritual Garden", "Hoshizora no Spica", "Beautiful Amulet") were used as the ending themes for the franchise's anime adaptations.
Trivia
Yukari Tamura also has a radio show based on the character role (Seppuku Kuro Usagi) itself. It is called "Mischievous Black Bunny".
External Links
Community content is available under
CC-BY-SA
unless otherwise noted.